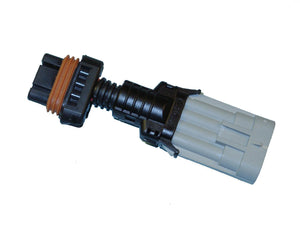 Alternator Voltage Booster Module
The GM Alternator Voltage Booster (AVB) module is designed to easily and accurately boost the voltage of the vehicle's entire electrical system. This unit is specifically designed to not trigger any trouble codes with the vehicle. It incorporates OEM connectors for assured compatibility and secure connections. The AVB is available in two versions.
Stage 1 AVB - boost the voltage by ~0.6 Volts ±0.1 Volts

Stage 2 AVB - boost the voltage by ~1.2 Volts ±0.2 Volts.
Boosting the vehicle's system voltage can provide the following benefits:
Increase the fuel delivery of electrical fuel pumps

Assist the ignition system in creating a hotter spark which can result in fewer misfires

Extend the effectiveness of the ignition system to higher engine RPMs

Shorten the time for recharging the vehicle battery

Increase the brightness of both interior and exterior lights

Increase the air flow capacity of the electric cooling fans (if so equipped)

Increase the flow of electric water pumps (if so equipped)

Improve heated seat performance

Boost power to OEM and aftermarket sound equipment
The AVB Module is compatible with specific GM vehicles with OEM alternators. Only the vehicles listed below are originally equipped with an OEM alternator that has remote voltage sensing, which is required for the AVB Module to function. Please refer to the application chart below to determine if your vehicle can benefit from an AVB Module.
---