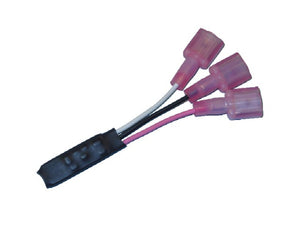 Universal Auto-Off Traction Control Module
Description:
The Auto-Off Traction Control System (TCS) Module is specifically designed to allow late model vehicles equipped with Traction Control System to start up with the TCS Off rather than in the OEM default On mode. For many automotive enthusiasts, needing to press the traction control button each time the vehicle is started in order to have the traction control system Off can be a real nuisance. For those who take their cars to the ¼ mile track, forgetting to turn the TCS off on the line or when at the burn out box can both waste time and lead to a poor performance run. Having the vehicle always starting with the Auto-Off TCS Module can eliminate one more thing to be concerned about when staging for a pass.

The Auto-Off TCS Module installs easily on any late model vehicle equipped with a traction control switch. Detailed installation instructions guide the user through a successful installation. Only basic tools are needed for the installation. The module can be removed just as easily and the vehicle will be retorted to the original TCS default On function. The Auto-Off TCS Off module will not cause any trouble codes to be tripped by the Powertrain/Engine Control Module or the Body Control Module.


How it works:
Once installed, each time the vehicle's ignition is turned from the Off position to the Run position, the following sequence of events takes place:
The appropriate control module initializes the Traction Control System (TCS) into the ON state. This is indicated by the 'TCS Off' button NOT being illuminated.
The Auto Off TCS Module runs an internal timer for approximately 10 seconds after ignition ON.
After the 10 second timer has concluded, the Auto TCS Off Module sends a brief signal to the appropriate control module to request the TCS activation state be switch to the OFF state.
The control module responds to the Auto TCS Off Module's signal, switches the TCS state to OFF and illuminates the 'TCS Off' button.
The Auto TCS Off Module then goes dormant until another ignition Off – On cycle is completed.
External Connectors: ¼" blade terminals, ¼" blade wire splices
Technical Information:
Proprietary microelectronics provides a small, inline, self-contained control module that performs all necessary functions
Installation is very easy and can be connected in a short time
Installs easily on any late model vehicle equipped with traction control using a grounding switch
Retains normal TCS Button function. I.e. the TCS system can be turned On or Off with the TCS button
Will not cause any trouble codes to be tripped by the Powertrain/Engine Control Module or the Body Control Module
100% solid state electronics are contained within the electronic module. The module does not require any special mounting hardware
Very low current microelectronics results in negligible power draw on power source circuit. I.e. does not require separate fused power source wiring
If uninstalled from the vehicle, the TCS is restored to OEM condition (TCS is On when vehicle is started)
---