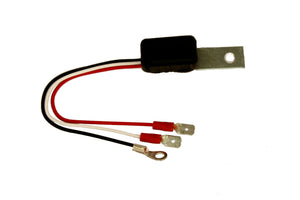 Universal Flasher Module
The Universal Flasher Module (UFM) is a simple replacement and upgrade for standard flasher relays. The UFM is compatible with incandescent lighting, LED lighting or combination of both. The flashing period is not affected by the current load placed on it. Regardless of how much or how little the current load, the module's flashing frequency remains digitally precise. Not only is the module compatible across types of loads, it is also has a very wide voltage operating range. This makes the module suitable for vehicles using different system voltages. The UFM is constructed of solid state components that will not wear out over time, unlike mechanical relays. Being 100% solid state, the flasher module also operates silently. The module comes with 1/4 inch blade terminals to provide simple replacement for standard flash relays. Extended leads on the module allows for easy mounting and installation.
The module operates with the ground wire connected to chassis ground and the white load wire connected to an electrical load (with the other side of the load connected to chassis ground), any time power is applied to the red power wire, power is passed through to the white load wire. This will then power the load. The micro circuitry in the flasher module then counts out 0.3 seconds. After 03 seconds, the flasher module interrupts power to the white load wire and then counts out another 0.3 seconds. After this second count, the flasher resumes power to the white load wire. This process repeats itself until power is removed from the red power wire.
Specifications:
Part Number: UFM10
Size: W - 0.6" L - 2.3" H - 0.6"
Lead Length: 5"
Weight: 1 oz. / 15 gm
Input Voltage: 5 - 18 Volts
Output Voltage: 5 - 18 Volts, equal to input voltage
Output Current: 10 amps maximum
Connection Polarity: Negative ground wiring systems
Flash Frequency: 1.6 Hz (cycles On for 0.3 sec., Off for 0.3 sec.)
Internal Switching: Solid State, no mechanical relay contacts
External Connectors: ¼" blade terminals, ring terminal for ground
Maximum Ambient Operating Temperature: 120°F / 50°C
---